Lead Screw Linear Actuator
The various products convert the rotational movement of a stepper motor to linear motion, with the use of a lead screw and an engineered thermoplastic nut (Delrin). This allows linear actuators to provide quiet, efficient, durable and cost effective linear motion solutions.
These linear actuators are ideal for applications that require a combination of precise positioning, rapid motion and long life. The available stroke length is within 1000mm, minimum travel step resolution 0.0015mm, max thrust can over than 240kgs. Typical applications include X-Y tables, medical equipment, semiconductor handling, telecommunications equipment, valve control, and numerous other uses. Variety of customizations are available upon request, such as screw length, custom designed nuts, anti-backlash nut, safety brake, encoder and others.

Motor Size

Code [NEMA]68111417232434Motor Size [mm]1420283542576086

② Linear Actuator Type
E = External Linear Actuator
N = Non-Captive Linear Actuator
C = Electric Cylinder (Captive) Linear Actuator
K = Kaptive Linear Actuator
③ Step Angle
2 = 2 Phase with 1.8°
4 = 2 Phase with 0.9°
3 = 3 Phase with 1.2°
5 = 5 Phase with 0.72°
④ Motor Length / Stack
1 = Single Stack
2 = Double Stack
⑤ Rated Current / Phase
XX = X.X [A]/Phase
⑥ Lead Screw Code
Please see lead screw code selection table individually
⑦ Number of Lead Wires
4 = 4 Flying Leads
6 = 6 Flying Leads
8 = 8 Flying Leads
⑧ Lead Screw Length / Stroke
XXX = XXXmm Lead Screw Length
[For External Linear/Non-Captive Linear]
XXX = X.XX inch Stroke
[For Electric Cylinder (Captive)/Kaptive Linear]
For Electric Cylinder (Captive)/Kaptive Linear, please see available stroke information
separately since each different motor size has standard stroke options
⑨ Lead Screw Surface Treatment
K = Nichlon Coating
T = Teflon Coating
S = Standard [No Teflon Coating]
Note : For small pitch lead screw, Teflon coating is not recommended.(If screw pitch is less than 1mm)
⑩ End Machining
M = Metric
U = UNC
S = Smooth
C = Customize [Please provide customization requirements to us]
N = None
⑪ Nut Style
S = Standard Flange Nut [External Linear Actuator]
A = Anti-Backlash Nut [External Linear / Non-Captive Linear]
C = Customized Nut [Please contact us or our sales representatives]
⑫ Encoder Option
EKX = Encoder [XX = Encoder Code] Please choose encoder series and resolution/output properly
P = Manual Knob
B = Brake
X = Rear Shaft
R = Encoder Ready [Hole and Shaft] - Please provide encoder ready requirements to us
C = Customize [Please provide customization requirements to us]
N = None
Example

DescriptionNEMA17 [42mm] Non-Captive Linear Actuator2 Phase with 1.8° step angleSingle Stack1.5A/Phase"K" screw lead [0.1" or 2.54mm lead]4 Flying leadsScrew Length : 101.6mmTeflon coated screwMetric end machiningStandard NutEK2L = EK2 Encoder with 1,000CPR, Differential output17N2115K4-101.6TMSEK2LDescriptionNEMA11 [28mm] Kaptive Linear Actuator2 Phase with 1.8° step angleDouble stack0.95A/Phase"D" screw lead [0.05" or 1.27mm lead]4 Flying leadsScrew stroke : 1.00 inch = 25.4mmStandard screwMetric end machiningStandard NutR = Encoder ready11K22095D4-100SMSR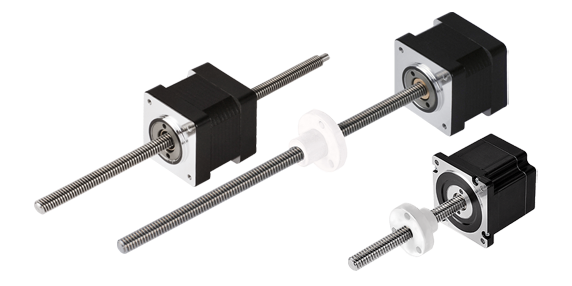 14mm Stepper Lead Screw Linear 20mm Stepper Lead Screw Linear 28mm Stepper Lead Screw Linear 35mm Stepper Lead Screw Linear
35mm Stepper Lead Screw Linear 42mm Stepper Lead Screw Linear 57mm Stepper Lead Screw Linear 60mm Stepper Lead Screw Linear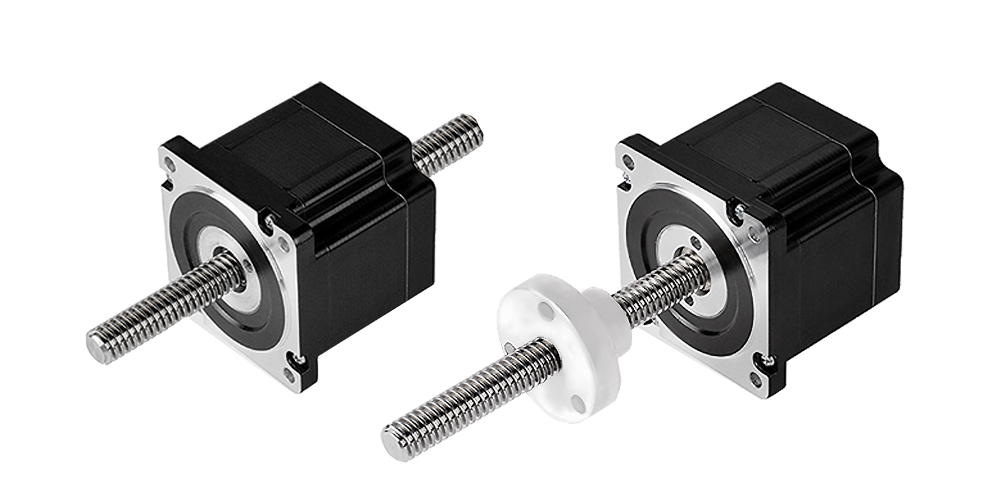 86mm Stepper Lead Screw Linear